After an incredible three months of performing, teaching, and recording together, I dropped off Haruna Walusimbi at the airport last week to head back to Uganda. During his time in the U.S. we visited ten states, gave 25 performances, had countless good times together, and even performed with Bela Fleck, one my musical heroes. Wherever we went, Haruna delighted audiences with a rich treasure trove of Ugandan music and dance. It was a joy to watch my students at Oakland University soak up Haruna's deep knowledge of East African traditions throughout his residency. He made a lasting impression on all of us through his generosity, kindness, and ever-positive attitude, especially my three-year-old Ellery, who misses Uncle Haruna's constant akogo playing.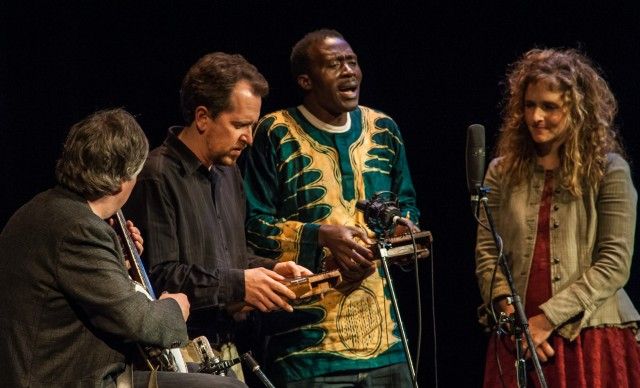 A week later and I am now headed to Africa myself to perform with the Bernard Woma Ensemble as a featured artist with the Kwazulu-Natal Philharmonic in Durban, South Africa. I'm excited be making a return trip to Durban to give African premieres of the Gyil Jumbie Concerto and the Gyil Yeru Concerto. Our performance will take place this Thursday at Durban City Hall.
As soon as I return from South Africa, some of India's finest Carnatic musicians will be arriving in Michigan for our 5th Annual Sarovar Indo-American Festival of Performing Arts. In addition to hosting the festival at Oakland University, I will be performing with the Vibrations Ensemble on Saturday, May 30th, and Percussion Jugalbandi on Sunday, May 31st. The Vibrations Ensemble is made up of many of the musicians I worked with during my sabbatical last fall in India, and this is a rare opportunity to hear the group in Michigan. Percussion Jugalbandi is a new project with my OU colleagues Sam Jeyasingham and Patrick Fitzgibbon, as well as local mridangam expert Vinod Seetharaman. A full schedule of all the great events taking place throughout this three-day festival can be found here.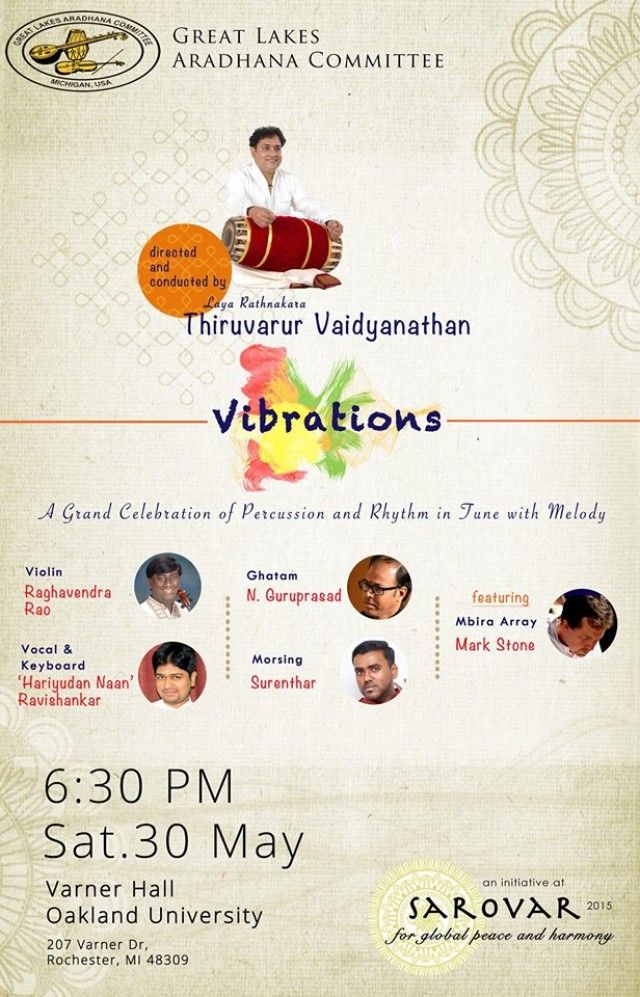 Then as we head into June I will have four performances with the Mark Stone Trio featuring Alan Grubner and Dan Piccolo. During these performances, I will be sharing some of my new compositions for the group, written this past fall while on sabbatical. We will be performing two full sets of my music at the Ann Arbor Canterbury House at 2pm on Sunday, June 7th. My trio will also be presenting three concerts together with the Sounding Light Chorale directed by the great Tom Trenney on June 5th, 6th, and 7th. Each concert will take place at a different Michigan church beginning at 7pmand will feature the trio performing alone and with the chorale. Details about the concerts can be found here.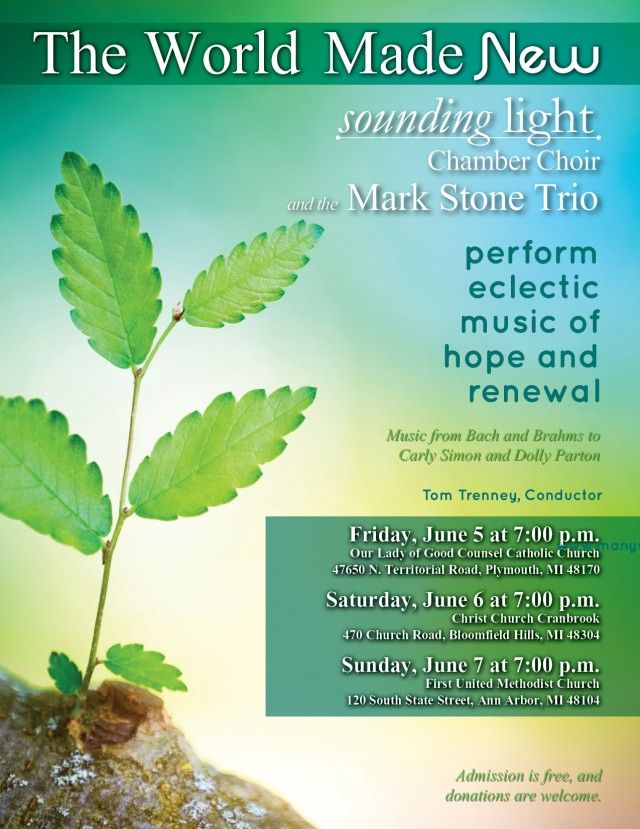 I am blessed to have these opportunities to play such a wide range of music with so many incredible musicians. I do hope you can make it out to one or more of the shows.