I've had a wonderful summer here in Michigan spending quality time with my family and playing festivals/parties with my steel band. While it was disappointing to have my trip to Ghana cancelled, as a result I was able to attend some very cool events at home in the mitten. Last weekend I played at the Magick Rhythm Fest. with my trio and attended the Rhyhm Bones Fest. in Grand Rapids. Both of these events were truly one-of-kind and now I'm a member of the Rhythm Bones Society :-) 
As summer winds down I have great gigs coming up this Wednesday and next Wednesday. On 8/20 I'll be playing with my trio as part of the Lathrup Village Concert Series. Then on 8/27 I'll be playing in an all-star band led by Joe Reilly at the Detroit Zoo's Wild Summer Nights Concert Series. I hope you can make it to one of these shows! For those who like to plan further ahead, Sept. and Oct. events are posted on this website.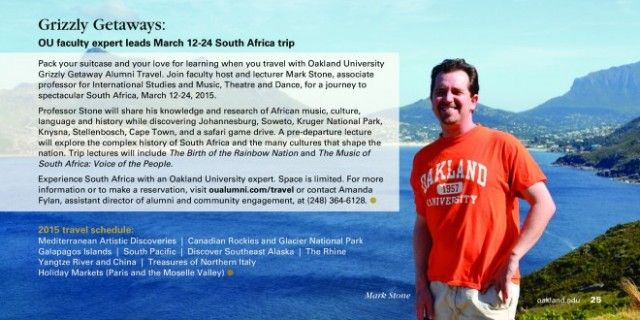 Finally, I'm excited to announce that I'll be leading an OU Alumni trip to South Africa in March. This trip is open to OU alum, OU faculty and staff, as well as "friends of the university." So all my friends, you are most welcome to join. You can read all the details here and shoot me an email if you are interested in traveling to South Africa.
Enjoy these final weeks of summer!
Mark