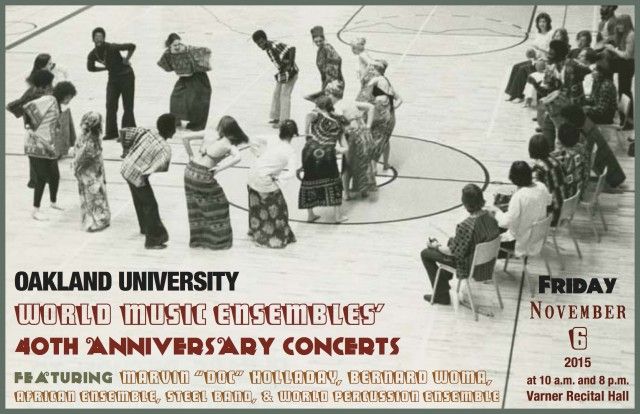 Thanks to everyone who came out to support my CD release concerts last month! We had a great time playing and sharing the music. If you have not yet picked up a copy of my new album it is now available for download on CD baby.
This week I am thrilled to be hosting Marvin "Doc" Holladay and Bernard Woma at Oakland University. Doc is the professor who started our world music program forty years ago. In my work at OU, I have been most fortunate to build upon the solid foundation that he created so many years ago. Doc has also had a stellar career as both a jazz musician and ethnomusicologist. Bernard is my mentor from Ghana with whom I have collaborated since 1992. The knowledge that he has so generously shared with me over the years is central to my teaching. Bernard is a dynamic percussionist and the foremost gyil (Ghanaian xylophone) performer in the world. Together with my colleague Patrick Fitzgibbon and our wonderful OU students, we will be celebrating 40 years of world music at Oakland University with two concerts this Friday. Tickets for the morning concert are available here. Tickets for the evening concert are available here.
For those of you attending the Percussive Arts Society International Convention in San Antonio, I will be playing with my trio on Thursday, Nov. 12th. We will be presenting a clinic/performance titiled, "New Music for Mbira, Tabla, and Violin." Our presentation will take place at 2pm in room 214 of the Henry B. Gonzalez Convention Center.