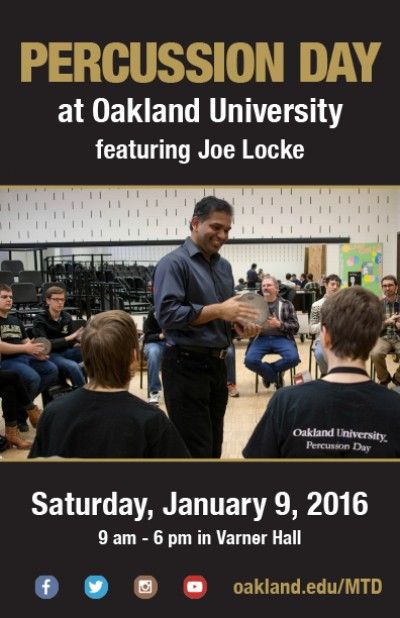 Wishing you a joyous and blessed New Year! Year-end concerts with Bernard Woma, Doc Holladay, my trio, Joe Reilly, and the OJQ were a blast and I am most grateful to the many people who took home a copy of my new CD at these shows. If you have not yet picked up a copy, get one here.
I'm thrilled to kick-off 2016 with some particularly meaningful musical events. This Saturday at Oakland University, together with my OU colleagues Dan Maslanka, Sean Dobbins, Patrick Fitzgibbon, Sam Jeyasingham, and Michael Medvinsky, I will be hosting our signature percussion event: Percussion Day. This year, Percussion Day will feature workshops on concert percussion, steel drums, drum set, South Indian drums, East African xylophone, and a special guest jazz vibraphone workshop with Joe Locke. And if that wasn't enough, students can also get feedback on solo & ensemble pieces or other material through individual lessons with Dan, Sean, Patrick, and myself. This yearly event is open to all ages and skill levels and will take place January 9th from 9am to 6pm at OU's Varner Hall, rooms 134 and 110. View the complete schedule hereand please spread the word!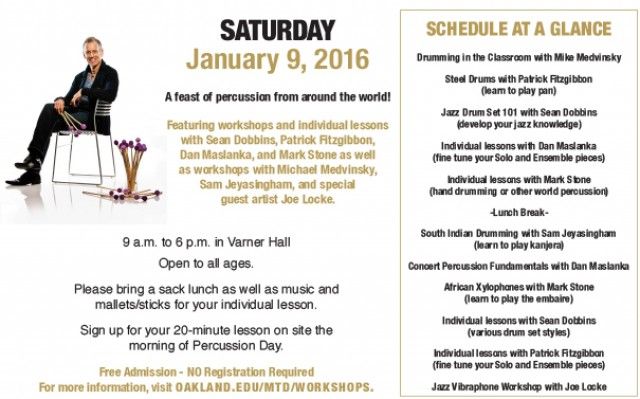 With the many challenges we face as a nation, I believe that this month's Martin Luther King Day must be celebrated more passionately than ever. Come celebrate Dr. King's legacy by attending a special "couples" performance of the Biakuye Percussion Group on Jan. 18th, at the Ann Arbor Downtown Library. This 2 pm all-ages MLK Day event features Chinelo Amen-Ra and his wife, accomplished dancer Ambyr Amen-Ra, along with myself and my wife, gifted musician Lesley-Anne Stone.
I am also taking part in two notable fundraisers this month, the first for the community of Pontiac, and the second for the community of Chennai, India. I will be performing as part of a fundraiser for I Can! Education and Enrichment Center of Pontiac. I Can! is run by my former student, Georgie Williams. Georgie is passionate about the arts and its power to transform communities. This grassroots organization is doing great work, especially for the youth of Pontiac. Their fundraiser will take place on Friday, January 15th at Oakland University's Varner Recital Hall at 7:30pm.
Then on Saturday, January 30th, I am hosting a benefit concert for victims of last month's devastating flooding in Chennai, India. If not for a last-minute cancellation, I would have been in India during these floods, which killed several hundred people and displaced thousands. The affected and displaced also includes musicians, many of whom lost not only their homes, but also all of their instruments. As a way of supporting my adoptive Indian music community, I have organized a benefit concert for musicians affected by the Chennai floods. This benefit is in collaboration with the Carnatica Archival Center, a Chennai-based non-profit. The concert will take place beginning at 7pm at OU's Varner Recital Hall and will feature Michigan Jugalbandi, a group led by myself (mbira/ gyil) with fellow OU professors Sam Jeyasingham (kanjira/ morsing) and Patrick Fitzgibbon (tabla/ drum set) as well as OU graduate student Matt Dufresne (saxophones) and mridangam artist Vinod Seetharaman. Michigan Jugalbandi's performance will be followed by a traditional Carnatic performance featuring Michigan's preeminent Carnatic musicians: Madurai Sundar (voice), Jay Balan (violin), and Vinod Seetharaman (mridangam).
I hope you can attend one or more of these special events.
Happy New Year,
Mark