Saturday, 6/16 – Stone Sound Collective @ Music Hall's Detroit Music Weekend – 5pm, Lear Stage
Sunday, 6/24 – Bernard Woma NYC Memorial @ ShapeShifter Lab in Brooklyn – 5pm
Wednesday 7/18 – Stone Sound Collective @ Nardin Park Music Series, Farmington Hills – 8pm
Sunday, 7/22 – Bernard Woma Michigan Memorial @ Oakland University Varner Recital Hall - 3pm 
This has been a difficult spring for me. Within a span of just over a month, I lost three incredibly important people in my life. On April 6, my dear mentor Vincent Khapoya departed this world after a long struggle with Parkinson's disease. Vince was a beloved international studies and political science professor from Kenya who took me under his wing when I first joined the faculty at Oakland University. Any success I have had at OU I owe entirely to his comprehensive and caring mentorship. Then on April 27, my long-time musical partner and gyil guru, Bernard Woma, joined the ancestors after an extended battle with cancer. I played the gyil with Bernard all around the world and cherish the musical journey we shared together. Whatever knowledge I have of African music has been built on the foundation that Bernard generously shared with me over a period of 25 years. Finally, on May 13 my grandpa Charles Ballard passed into new life, 94 years young. My grandpa was the rock of our extended family and instilled in all of his children and grandchildren both a joy of life and a tremendous work ethic. Any ability I have to stay focused on my goals while enjoying life's bumpy road comes from him. While the passing of these three giants has left a void in my heart, I know that I will carry their spirits with me as I continue to teach, play music, and work as hard as I possibly can to make this world a better place.
The funerals celebrating the lives of Vincent Khapoya and my grandpa were special events full of both sorrow and joy. I am extremely grateful to the Khapoya family for the opportunity to share music throughout Vince's funeral. As I write this newsletter, Bernard's body is headed to Ghana, where the final Dagara funeral rites will be carried out. A funeral in Accra will take place on July 13 & 14 before traveling to the North for final funeral services there on July 20 & 21. At the same time, we will be holding two special memorials in the US for our Jumbie brother. The first memorial will be held in two weeks in Brooklyn at ShapeShifters Lab, one of many New York venues where Bernard shared his amazing musicianship. The second memorial will take place on July 22nd at Oakland University, just one of many American universities where Bernard shared his passion for African music as a guest artist and teacher.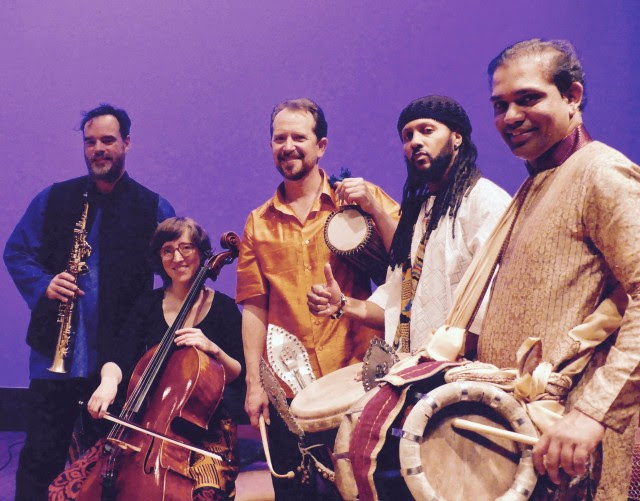 This time of grieving has also been a time of new beginnings. I recently debuted a new music ensemble, the Stone Sound Collective. The concert was a great success and we have many more performances coming up this summer including a performance at Music Hall's Detroit Music Weekend this Saturday and a performance as part of the Nardin Park Music Series on July 18th (both free events). To learn more about the collective creativity of this new project and to receive regular updates on our performances and recordings, please like our Facebook fan page here.
I hope that you are able to join me at one of my upcoming Stone Sound Collective performances and/or one of the memorial celebrations for Bernard. Please also enjoy the following recordings, dedicated to Vincent Khapoya, Bernard Woma, and my Grandpa Ballard.
Mark Stone, Guba
I wrote this composition, Mwalimu (teacher), for Vincent Khapoya in celebration of his retirement from the Oakland University.
This video was my final performance with Bernard. We performed Binne together in Ghana at Filmua's Kukur-Bagr festival just before my completion of the Gyil Goba initiation in nearby Hinneteng.
I wrote this composition, Ballards' Joy, for my grandparents. It is inspired by my grandpa's love of big band music and his even greater love of dance.