East African Music and Dance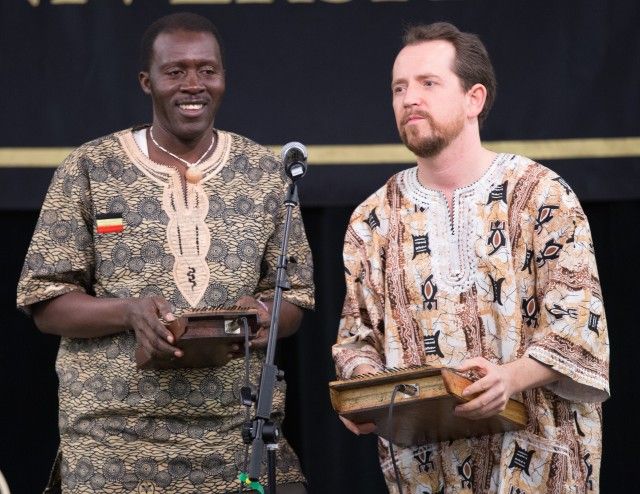 Haruna Walusimbi is a Grammy Award winning multi-instrumentalist, vocalist, and dancer from Uganda. He is one of Uganda's most celebrated artists, with extensive performance and teaching experience. Mark Stone is an acclaimed multi-percussionist and music educator from the United States. He was a Rotary Ambassadorial Scholar at Makerere University in Uganda and is currently Associate Professor of World Music and Percussion at Oakland University in the U.S. (Please see complete bios below.) Walusimbi and Stone have performed together since 1997, presenting moving concerts and enlightening educational programs featuring ngoma repertoire of Uganda and new music rooted within the ngoma tradition. As an expert dancer, singer, and performer of the endingidi fiddle, akogo kalimba, enkwanzi panpipes, embaire marimba, ntongooli harp, ebigwala trumpet, and many types of drums, Haruna Walusimbi truly embodies the holistic nature of traditional East African music. Mark Stone's extensive background as a composer and performer of multiple African and American percussion instruments including the new array mbira brings a contemporary global dimension to the duo's performances. Walusimbi and Stone have performed and taught together at concert venues and universities throughout the United States and East Africa.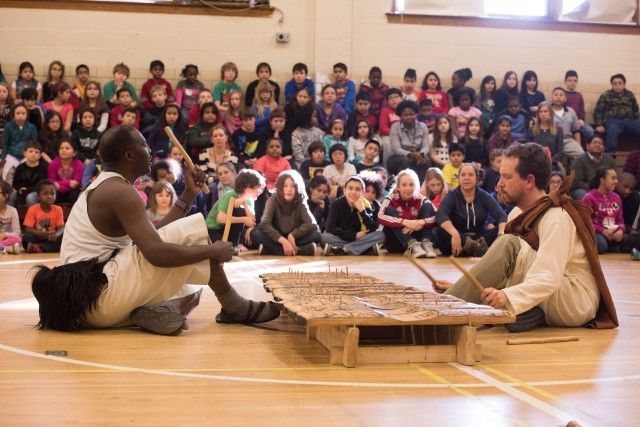 In 2017, Walusimbi and Stone took part in Education Africa's International Marimba and Steelpan Festival, the largest marimba festival in the world, in Johannesburg, South Africa. Together they served as international adjudicators for the event, and also presented festival performances/workshops.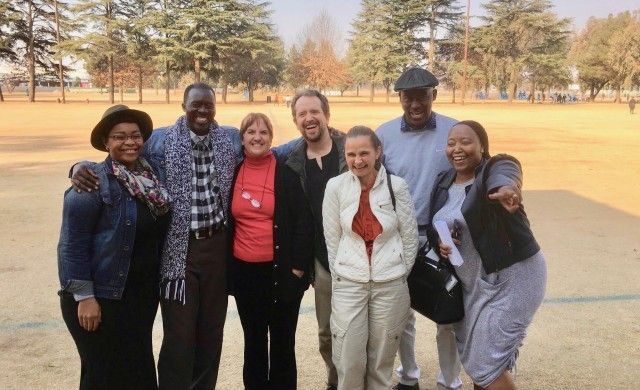 Traditional Basoga composition "Twalibamukwano" performed by Stone on the array mbira with Walusimbi on the endingidi fiddle and kisoga drums.
Haruna Walusimbi's original composition "Atenga Omwana" sung by Walusimbi, with Stone and Walusimbi on the akogo kalimba and Stone on the gyil xylophone.
Mark Stone's original composition "Kakaire", featuring Stone playing the akogo and Walusimbi playing the endingidi.
Born in 1965 in the village of Lwanika in Uganda, Haruna Walusimbi grew up surrounded by rural traditional music. At a very young age, Walusimbi began participating in the diverse music traditions that thrived in his Busoga village. He went on to join the St. James Secondary School music program, one of the best in the region. Walusimbi then studied music, dance and drama at Makerere University, where he received bachelor's and master's degrees in the Arts. In 1997, he was the Global Youth Earth Day Ambassador for Africa and won the Global Youth Earth Day Ambassadors Competition in Marikina, Philippines.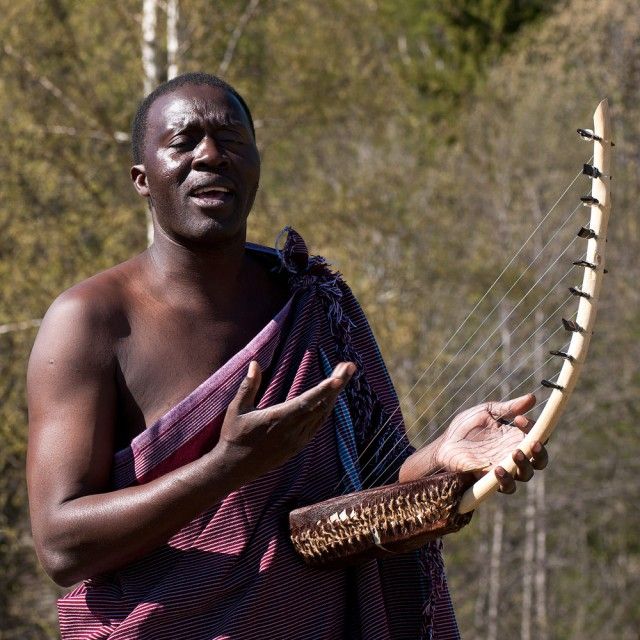 Upon graduating from Makerere University, Walusimbi founded Nile Beat Artists, a Jinja-based performing arts troupe. Nile Beat is now recognized as one of the top groups in Uganda, regularly performing at state functions and for visiting dignitaries. This past year, they were honored to perform for Pope Francis during his visit to Uganda. 
 In 2005, Walusimbi created theSenator National Cultural Festival. The festival has grown to become the largest annual cultural event in Uganda; lasting six months, with tours to 121 rural towns each year and involving more than 320 folk music and dance troupes. Among its many accomplishments, the festival recently revived the ebigwala (gourd trumpets) music and dance of the Busoga Kingdom together with UNESCO, which inscribed ebigwala on their list of intangible cultural heritage in need of urgent safeguarding. The Senator National Cultural Festival successfully restored this tradition and ebigwala has since been performed for the Kyabazinga (King of Busoga), during his second coronation celebrations.
 In addition to his many accomplishments in Uganda, Haruna Walusimbi has achieved international renown as an educator, musician, and actor. He performed a leading role in the film Throw Down Your Heart, produced by American banjo icon Bela Fleck. Walusimbi subsequently recorded with Mr. Fleck on the album Throw Down Your Heart: Tales from the Acoustic Planet Vol. 3: Africa Sessions, which won a Grammy Award in 2010 for Best Contemporary World Music Album and Best Pop Instrumental Performance. Walusimbi also had a role in the Academy Award-winning film The Last King of Scotland, starring Forest Whitaker.
Prof. Mark Stone is a composer-performer with a passion for using music to bring diverse communities together. An internationally recognized multi-percussionist, Stone has performed with the foremost musicians of Uganda, Ghana, South Africa, India, Trinidad, Ecuador, and the United States. As a composer his work is rooted in traditions stretching from classical Indian music to European concert music and American jazz to traditional African music. The cross-cultural capacity of his music has been described as, "revolutionary to our musical landscape. The experiences he gained traversing geographical borders has put him in a unique position to cross genre borders and break conceptual boundaries."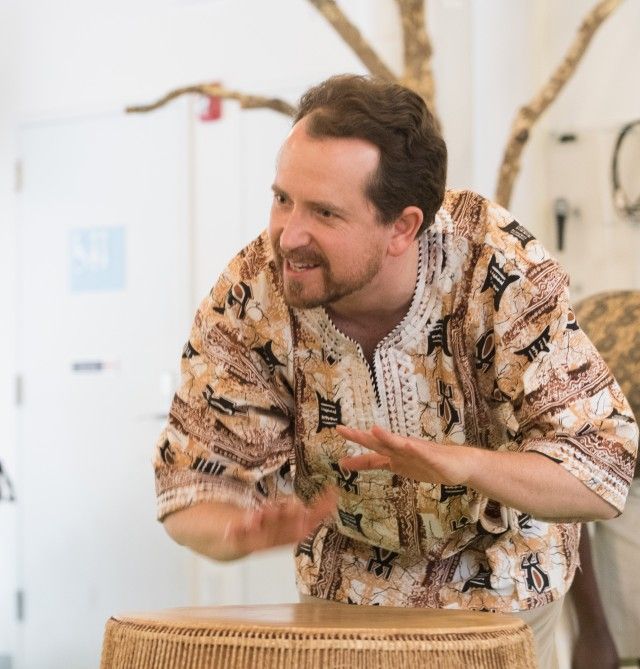 His newest project, the Stone Sound Collective, crosses these borders and boundaries as it unites diverse musicians and instruments. The group brings together ancient percussion traditions of Africa and India with the lyricism of stings and saxophone. The collective performs original compositions rooted in member's wide-ranging musical influences, creating music that celebrates the oneness of humanity by uplifting hearts, expanding minds and connecting souls.
Stone was a Rotary Ambassadorial Scholar at Makerere University, where he researched traditional Ugandan music and performed with the Nakibembe Xylophone Group. As a longtime member of the Bernard Woma Ensemble, he performed twice at the Filmua Kukur Bagr Festival in Ghana, with the New York Philharmonic at Avery Fisher Hall, with the Philadelphia Orchestra at the Kimmel Center, and premiered concerti for gyil trio and orchestra with the South Dakota Symphony, Minnesota Orchestra, Albany Symphony, Berliner Symphoniker, and Kwazulu-Natal Philharmonic (South Africa). Through his dedication to the study of Dagara Gyil music, the Gyil Guba elders of Hiineteng, Ghana honored him with the title of "Gyil Guba" in recognition of his 2016 completion of the Gyil Goba initiation.
In 2012 and 2014, Stone was a featured artist in India at the Bharat Sangeet Utsav Pan-Indian Music Festivals in the cities of Chennai, Coimbatore, Bangalore, and New Delhi. Through his travels in India and regular performances at the annual Cleveland Tyagaraja Festival, he has collaborated with legendary Carnatic musicians Dr. Balamuralikrishna, Guruvayur Dorai, Sudha Raghunathan, Chitravina Ravikiran, Guitar Prasanna, and the Carnatica Brothers.
As co-founder of Jumbie Records, Stone has produced and recorded twelve albums. Through Jumbie Records, he has also sponsored annual music festivals in Ghana and Uganda, and produced many world music festivals in New York and Detroit. In addition, he has served twice as a performer/adjudicator for the International Marimba and Steelpan Festival in Johannesburg, South Africa and as a soloist/clinician for the 11th International Percussion Festival in Quito, Ecuador.
An Associate Professor of Music at Oakland University, Prof. Stone coordinates the world music and percussion programs in the School of Music, Theatre, and Dance. He is also the Arts Area Leader for the OU/Pontiac Initiative and a member of the Pontiac Arts Commission. Through the OU/Pontiac Initiative, Mark recently launched the successful Soul Food Concert Series.
As an American Baha'i, Mark Stone is dedicated to promoting equity, diversity, and a world embracing vision of humanity.