Global Percussion & Strings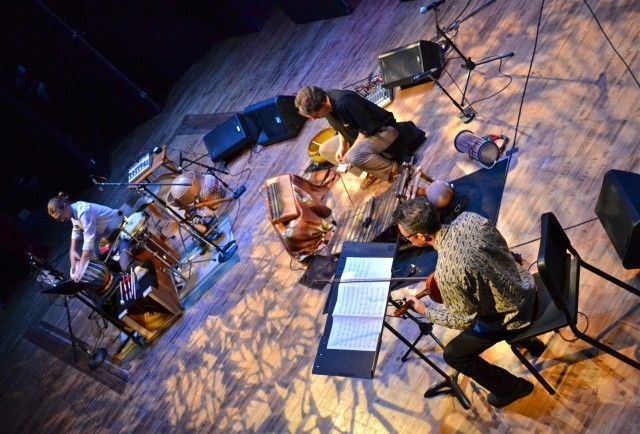 Mark Stone brings together celebrated world percussion traditions of Africa and India with the lyricism of the violin to create a vibrant new global soundscape. Inspired by his extensive travels, performances, and studies in Africa and India, Mark Stone, Associate Professor of World Music and Percussion at Oakland University, started this project in 2013. The Mark Stone Trio performs new music drawing on Mark's wide-ranging compositional influences, stretching from American jazz to traditional African music and classical Indian music to European concert music. In the group Mark plays the powerful Ghanaian gyil, ancient mbira of Southern Africa, and the traditional Ugandan endongo. He has pursued in-depth research on each of these instruments in Africa with many master musicians including Haruna Walusimbi, Dizu Plaatjies, and Bernard Woma. In addition, Mark plays the modern South African kalimba and the American-made array mbira. He is creating a new style of Carnatic kalimba playing based on his studies of Indian music and collaborations with the world's leading Carnatic musicians, including Dr. Balamuralikrishna, Sudha Raghunathan, and the Carnatica Brothers. On the newly-invented array mbira, he has developed a sound based upon his considerable background performing jazz vibraphone and western marimba repertoire.
Mark's original compositions and arrangements for the ensemble combine his gyil and mbiras with violin and Indian percussion to create an exciting new sound. On his new recording, Kakaire, Mark is joined by violinists Raghavendra Rao, Regina Carter, and Alan Grubner; percussionists Tiruvarur Vaidyanathan and Dan Piccolo; along with bassist Miles Brown and multi-instrumentalist Haruna Walusimbi. All of these incredible artists freely cross musical boundaries with their dynamic playing and are exceptional improvisers, bringing a wide-range of performance experience to the ensemble. The Mark Stone Trio has been featured at the Percussive Arts Society International Convention, the annual International Society of Improvising Musicians conference, the University of Michigan, Ohio University, Oakland University, in addition to numerous festivals and concert venues.