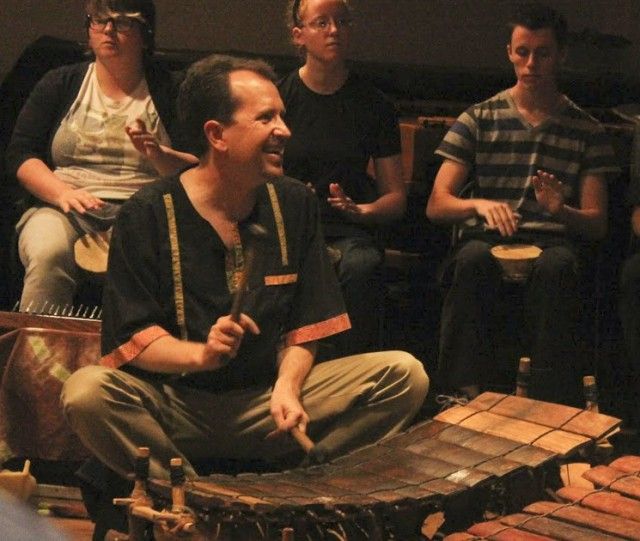 Fall may still officially be a few days away, but it has definitely arrived here in Michigan. And what an incredible fall it is! For the first time in 40 years I am not in school but instead enjoying the best perk of a career in academia: a sabbatical! The purpose of a sabbatical is to give profs like myself some time off from teaching to pursue research. I'm really taking advantage of this opportunity and am busy preparing for exciting research trips to Uganda and India in October and November.
But I love teaching and just can't stay away! I just finished my first of two residencies at the other OU (Ohio University - photo above), taking part in "Experience Percussion" with the Mark Stone Trio. I'll be back again early next month to present the Embaire – Xylophone Music of Busoga as part of Ohio University's "Global Excursions." If you are in the Athens, OH area, my presentationwill take place on 10/8 in the Recital Hall and the final performance will be at Memorial Auditorium on 10/11. I'm also looking forward to doing some guest teaching while in both Uganda and India.
Before I take off on my big adventure, there are still a few more shows friends in Michigan can catch. This Saturday my steelband, Southpaw Isle, will be performing a 2pm FREE family concert at the Ann Arbor Library, Pittsfield Branch. Then the following Sunday, 9/28, I'll be playing with the Scott Gwinell Jazz Orchestra as part of a special combined performance with the Motor City Symphony Orchestra at the Macomb Center. To kick off October, I'll be joining the new group Spirits Rising, led by Joe Reilly and Allison Radell on 10/4, as part of the Native American Heritage Celebration in Detroit. 
My friends in Uganda and India, I can't wait to catch up with all of you! In Uganda, I'll be hosted by Haruna Walusimbi; in India, I'll be hosted by KN Shashikiran. Details on my performances and workshops abroad will be posted here once everything is finalized.
Happy Autumn,
Mark