I had a great week in NYC with my trio project. In addition to playing at the New School as part of the ISIM festival and at Somethin' Jazz Club, we went into the studio to begin work on a new recording on the Jumbie Records label. I want to send a big shout out to Alan Grubner and Dan Piccolo for their awesome musicianship and for helping me to realize my musical vision.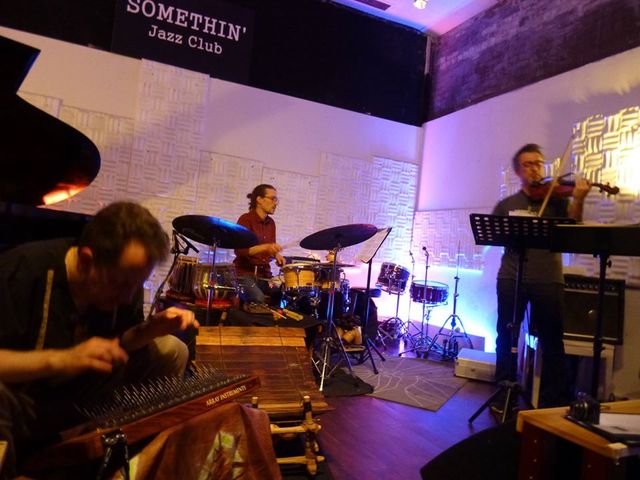 This Saturday is officially "World Music Day", an event now celebrated around the globe. To celebrate in Michigan, I have a series of events happening throughout the week. On Wednesday the Mark Stone Trio will be performing as part of the Lathrup Village Summer Concert Series at 7pm. Michele Ramo will join me on mandolin and violin while Dan Piccolo will join me on tabla, frame drum, and drum set for this free outdoor performance. Then on Thursday my student groups will be presenting their summer world music concert at Oakland University, performing music for the embaire xylophone and pan-round-de-neck steel drums. This concert is also free and will take place at noon in the Varner Courtyard outside of Varner Recital Hall. Finally, this weekend Regina Carter will be in residence at Oakland University together with the Oakland Faculty Jazz Quartet. On Saturday and Sunday we will offer Jazz Workshops in Varner Hall from 9am to 4pm. The workshops will include two days of activities including combo rehearsals, listening classes, African xylophone sessions and more at the bargain rate of just $20.
I hope you can celebrate World Music Day (Week) with me by attending one or more of these events.
Mark