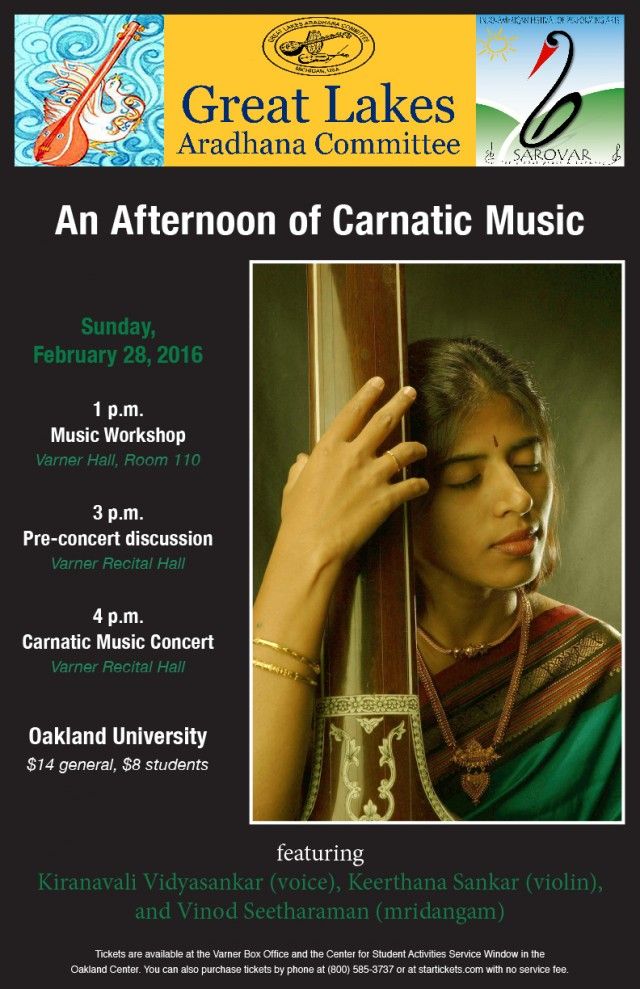 A big thank you to everyone who came out to support our Chennai fundraiser! Thanks to your generous support we were able to raise $1371 to aid musicians affected by the recent floods in Chennai, India.
The next few months are super busy with all kinds of fun and creative performances. This Sunday, I will be hosting "An Afternoon of Carnatic Music" at Oakland University. The event will feature Kiranavali Vidyasankar (voice), Keerthana Sankar (violin), and Vinod Seetharaman (mridangam). They will present a workshop at 1pm, a pre-concert discussion at 3pm, and a grand classical concert at 4pm. Come on out to learn about and experience the beauty of Carnatic music. More information here.
Then next Friday, March 4th, the Southpaw Isle Steelband will be performing at 7pm as part of the Chelsea First United Methodist Church's Concert Series. This highly participatory family concert will trace the history of the steel pan and feature exciting steelband music performed by Lesley-Anne Stone (lead pan), John Dana (bass), Miguel Gutierrez (percussion), and myself (double second pans). More details here. The following Saturday, March 12th, I'll be hittin' with the Oakland Jazz Quartet as we accompany the Patterson Rhythm Pace Dance Company's production of "Swingin'", featuring vocalist Trish Shandor and music from Natalie Cole's album "Unforgettable with Love." Details here.
Latter in the month, I have the distinct privilege of taking part in the annual Cleveland Tyagaraja Festival. This 12-day festival is the largest Indian classical music event outside of India. The entire festival is amazing! I will be featured together with Padma Shri awardee Aruna Sairam in "A Jazz-Carnatic Collaboration" on Friday, March 25th. The concert will take place at4:45pm on the campus of Cleveland State University in Waetjen Auditorium. Read complete festival details here.
I hope to see you at one or more of my upcoming performances.
Thanks for your support,
Mark