Saturday, 8/25 – Stone Sound Collective @ Pontiac's Little Art Theatre – 8pm
Friday, 9/21 – Mark Stone, International Peace Day Concert @ Oakland University's Varner Recital Hall – 8pm
I just returned from beautiful Quito, Ecuador where I took part in Estudio de Percusión's XII Festival Internacional de Percusión. At the festival I had a blast teaching and performing with some of the greatest (and craziest!) percussionists on the planet. The faculty included Anders Åstrand from Sweden, Evaristo Aguilar from Mexico, Jholman Caceres from Colombia, Cesar Gonzalez Cisnero from Venezuela, and Carlos Alban from Ecuador. All of the Ecuadorian students worked really hard and we presented several exciting performances together.
I'm bringing the wonderful vibe of this Ecuador festival back to Michigan tonight, August 25th - 8pm, with two sets of original music featuring Stone Sound Collective at Pontiac's Little Art Theatre. Please check out this great article about the show in the Oakland Press. Tickets for the performance can be purchased here.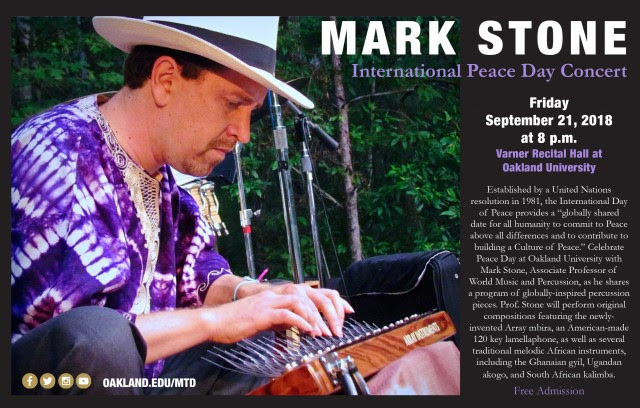 Looking ahead, I will be kicking off the new school year with a special concert celebratingInternational Peace Day on Friday, September 21st. Established by a United Nations resolution in 1981, the International Day of Peace provides a "globally shared date for all humanity to commit to peace above all differences and to contribute to building a culture of peace." This solo program will feature a range of globally-inspired percussion pieces featuring the newly-invented Array mbira, an American-made 120 key lamellaphone, as well as several traditional melodic African instruments, including the Ghanaian gyil, Ugandan akogo and South African kalimba.
I hope to see you tonight in Pontiac!
Mark Stone, Guba