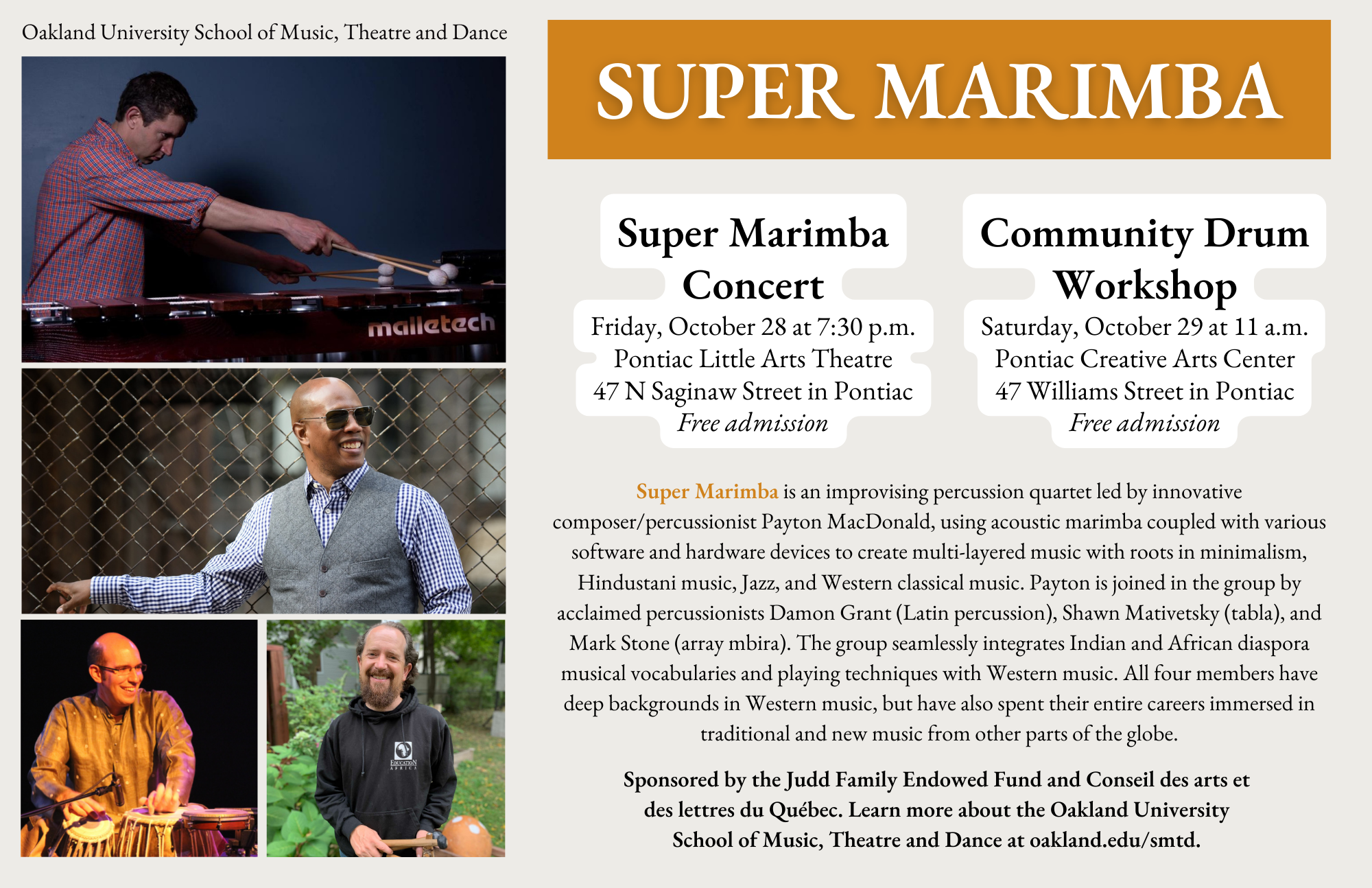 A big thank you to everyone who came out last month to celebrate International Peace Day with the Stone Sound Collective! It was a beautiful event. 
I'm happy to share that at the end of this month I will be presenting a concert and workshop with Super Marimba in Pontiac, MI. The group is led by Payton MacDonald, who has throughout his remarkable career pushed the boundaries of marimba music in many exciting directions. Payton is, in my opinion, one of the most lyrical marimba artists you will ever hear. He is joined in Super Marimba by virtuoso percussionists Shawn Mativetsky (tabla) and Damon Grant (Latin percussion). I am thrilled to be playing as part of this project on the array mbira. 
Please join us on Friday, October 28th at 7:30pm for a free concert at the newly reopened Pontiac Little Art Theatre and for a free community drum workshop on Saturday, October 29th at 11am at the Pontiac Creative Arts Center. 
I would like to also take a moment to remember two giants of our world music community whose spirits recently departed this earthly plane. Kevin Locke was an internationally renowned Lakota indigenous flute performer and hoop dancer. Ruben Alvarez was an acclaimed Latin percussionist. I became friends with Kevin and Ruben late in their storied careers and was blessed to collaborate with both of them recently. They were each not only passionate artists but also incredible humanitarians. The words of wisdom that Kevin and Ruben shared with me during our long talks has helped sustain me during these challenging times and has taught me what it truly means to be an artist-educator.